Carmel Valley Home for Sale in Village Views Neighborhood
Search for similar homes for sale in Carmel Valley, CA 93924.
Listing Details
Carmel Valley Home for Sale in Village Views Neighborhood
$2,995,000
MLS#81549492
Bedrooms: 5
Bathrooms: 5 ½ 
Square feet: 6300 Square Feet (County)
Lot Size:  4.92 oak studded acres
Call Mark Bruno or Jeff Davi with Coldwell Bankers Monterey Peninsula Home Team to see if this property is still available and to set up an appointment (831) 626-2277
Private Carmel Valley Contemporary Home for Sale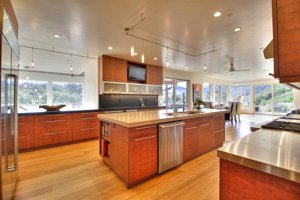 All the way at the end of Via Milpitas in sunny Carmel Valley Village you will find a very unassuming wooden gate guarding the entry into a private 4.92 Acre oak studded forest with an incredible 6300 square foot contemporary home that looks like it is right out of a magazine!  New construction utilizing many of the latest technics in green building was finalized in 2011. Architect Terry Takikawa designed this contemporary styled home while maintaining the warmth and character of a more traditional structure. Stacked stone, wooden trellis, glass wind breaks, copper gutters were used in ways making this home a modern interpretation of a classic craftsman style home. In addition, he did an exceptional job of utilizing both indoor and outdoor spaces, allowing the home owner to take full advantage of the fabulous weather available most of the year in the Carmel Valley Village.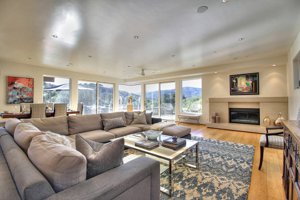 Upon entering 100 Via Milpitas, you are greeted to a large formal entry bathed in natural light, wood planked floors, a grand staircase with a brushed metal and glass banister, smooth white plaster walls and wood paneling and trim leaving you with a modern but warm feeling design. This is a 3 level home and incorporates an elevator reaching all three floors.
The lower level is home to the formal entry along with a large guest bedroom suite, and a family room currently set up as a media room with surround sound speakers built in and a wet bar with a mini frig and a microwave.  Like the media room, the bedroom and bathroom are very spacious.  The bath can double as a mud room as there is access from outside.  It has ceramic tile floors, a cool modern vanity plus a large walk in shower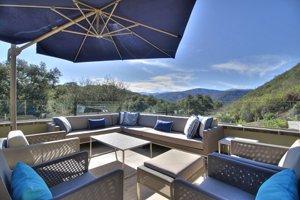 The main level is home to a large and gorgeous modern kitchen with a walk in pantry, a living room with a sleek looking fireplace, a dining room all open with access to a very large outdoor deck.  There are windows everywhere taking advantage of the views of the Santa Lucia Mountain Range and making this room very light and bright. In addition, there are two more bedrooms each with en-suite bathrooms on this level, plus an office, a powder room and the laundry facilities.
Check Out This Master Suite!
Accessible either by stairs of elevator is the upper level of this contemporary Carmel Valley home.  There are tranquil views from the sizeable master suite.  Wood planked floors, a 90 degree frameless window, a gas fireplace are all strikingly well integrated into this retreat.  A private deck with a fireplace is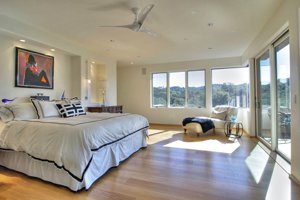 accessible from the large sliding glass doors and expands this already roomy space.  The walk in closet with a large built in shoe rack will be the envy of all of your friends!  
The 5 Star resort quality master bath is to die for and looks like it is right out of a magazine.  Textured tile floors, floating wood vanities and built in cabinets and clean white porcelain sinks and counter tops, a large soaking tub, two frameless 90 degree windows, a walk in steam shower and views to die for…That is some bathroom!
The incredible Carmel Valley Village weather and the use of outdoor space is what really transforms this home from a great property into something really special.  There are decks, walk ways and paths all around the house on all three levels expanding this already roomy home into an amazing oasis.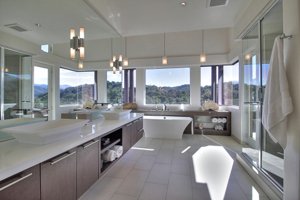 There is an outdoor dining area, a place to just hang out with friends, or a private place to unwind with your soul mate.
The Village Views area of Carmel Valley is located just east of Laureles Grade and just before Carmel Valley Village and covers both sides of Carmel Valley Road.  This is a great location for those that want to be in the sunshine most of the year, as you are typically just outside the reach of the coastal fog from Carmel but you are still only 15-20 minutes from all of the activities the coast has to offer. 
Most of the terrain is sloped so although lot sizes are larger, normally over an acre, flat usable land is still at a premium. Most homes are built on what little flat area the parcel has to offer, or sometimes they are built on the edge of a sloped section of land.  One advantage to this area is the scenery is awesome!  Many homes have great views down Carmel Valley back towards the coast, or across the valley of the Santa Lucia Mountains, which will receive a dusting of snow in the winter time.
If you want to be in the sunshine but out of the hustle and bustle of town, the Village Views neighborhood of Carmel Valley could be a good fit for you.
Find Similar Homes in the Area