Pebble Beach resident and real estate broker Ed Ciliberti purchased the train car and longtime fixture along the Recreation Trail back in April for $27,000. But after acquiring and consulting with Monterey city officials on the new lease and its deed restrictions, he learned the lease would require the approval of more than just Monterey. It would also need the consent of the Pacific Grove City Council and the Board of Directors of the Monterey Peninsula Regional Park District for any commercial use.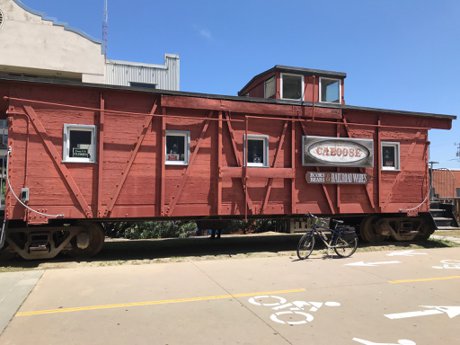 Weighing a hefty 20 tons, the steel car with wood exterior siding was built in 1916 as an outside braced boxcar and converted into a caboose circa 1940. It sits on property leased from the city and is located between Prescott and Hoffman avenues and adjacent to the Monterey Bay Aquarium's new Center for Ocean Education and Leadership.
Ciliberti purchased the caboose with the expectation to not only keep and maintain the Cannery Row piece of history but to also run an antique and collectibles business out of it as the previous owners Debbie and Randy Reinstedt did. He paid approximately $15,000 for the railroad memorabilia inventory owned by the Reinstedts.
He has also had the caboose's original 102-year-old roof restored by Noble Pride Roofing Company, which he said cost $5,000 although the company donated the labor costs.
Additionally, he paid the Reinstedts separately for the original porcelain sign that was on the original boxcar/caboose that says "Western Pacific" and "Feather River Route" in its circular middle. Because of its history and monetary value he will keep it on display but will attach a new porcelain sign on the caboose's exterior after the train car receives a new coat of deeper red paint. The original sign is worth in excess of $10,000 to $15,000.
So far the city of Monterey has approved the lease and given permission to the new owner of the Western Pacific Wood Caboose #641, as it's officially known, to open the commercial space. The five-year ground lease will cost $469 per month, almost $200 more than the previous lessees.
Janna Aldrete, property manager of the city's commercial leasing and property management department, said a new fair market analysis was done when explaining the rise in cost.
While Ciliberti is still waiting, he expects permission from Pacific Grove and the Park District to come because support behind the preservation of the historic piece is so strong.
He described the city of Monterey as being "terrific" to deal with and that the Cannery Row Foundation has also been very supportive.
Upon his passing, Ciliberti has offered to donate the historical caboose to the Foundation.
"I'm doing that because I know it will stay where it belongs," said Ciliberti.