Homes for Sale in Pacific Grove, CA
Why Do People Live here?
Pacific Grove is quaint little coastal community loaded with scenic beauty on the southern tip of Monterey Bay.  Known as America's Last Hometown, Pacific Grove has all sorts of community activities going on throughout the year making it an ideal place to raise a family.  Asilomar State Beach, Lovers Point, great restaurants, local shops and the incredible views of the bay from the rocky granite-lined coast makes Pacific Grove a favorite among vacationers and second home owners alike.
Looking for a home in Pacific Grove?
Interested in finding homes for sale in Pacific Grove, CA? Click that link to find all the currently available homes in this area of the Monterey Peninsula.
What's the City Like?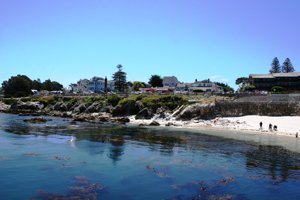 Pacific Grove is known as "America's Last Hometown" and it is appropriately named if you ask me. One stay in this quaint little town will leave you wanting to come back again and again or even moving here full time! There is a great downtown shopping district that looks much the same as it did 50 years ago.  Pacific Grove will not allow national chains to put up shop here which is the main reason the town has been able to preserve its small town look and feel. There is a feeling of community in Pacific Grove and fabulous annual community events that keep the old traditions alive and foster that strong community feel. In addition to the feel of an older slower pace of life, Pacific Grove is said to have the highest concentration of Victorian era homes per capita in America, so the town looks the part as well.
What Are Homes Like in Pacific Grove?
Although Pacific Grove is a relatively small community, it has something for everyone when it comes to architectural styles.  Pacific Grove has over 1200 homes that are considered historical and were built between 1874 and 1926 not only giving the town the charm that visitors love but making it the highest concentration of Victorian Era homes per capita in the US! 
When most people think Victorian Era architecture, they think of the distinct Queen Anne Victorian style home and while Pacific Grove has its share of Queen Anne style homes, it has 12 other distinct styles that have been identified from this period as well.

From the 1940's - 1970's brought the popular mid-century modern and California ranch style architecture to Pacific Grove, primarily in the tract housing areas around the Pacific Grove Golf Course, the Asilomar area and the upper portions of Pacific Grove which were all developed much later than the old retreat area near downtown.  Many of these Pacific Grove ranch style homes are now the recipients of major facelifts into larger, more modern homes that take on the design cues and traits of local Victorian Era homes. The Craftsman being a local favorite here in Pacific Grove, it seems to be a good choice for an old ranch facelift!
What's Going in Pacific Grove and Surrounding Cities?
Pacific Grove has held on to many old traditions and does a great job of passing on the towns history through annual events, making it a great place to call home.  Annual traditions include the Good Old Days Celebration each March which celebrates the city and country's pasts and also kicks off the new season with a large arts and crafts show, carnival like food, a kid carnival with rides and a parade.  The Feast of Lanterns each July celebrates the history and culture of Pacific Grove and features various activities around town including a pet parade and culminates with an extravagant pageant at Lovers Point followed by fireworks. Although it has evolved over the years, the Feast of Lanterns has been celebrated for over 100 years in Pacific Grove. The Butterfly Parade and Bazaar celebrates the annual return of the Monarch butterflies to Pacific Grove with a parade of Pacific Grove elementary school students in various costumes that are normally made in school and is followed by a bazaar at Robert Down School.

I remember as a kid looking forward to these events each year and I still do as an adult!  I know someday I will look back on them with fond memories.  These are events that make a town feel like home and what separates Pacific Grove from the other coastal communities in California.  Find out about everything that is nearby to Pacific Grove including places of worship, banking, shopping, attractions and recreation and much more on my website.
What Schools will the Kids Attend?
If you buy a home for sale in Pacific Grove, the local public schools serving this town are Robert Down Elementary School, Forest Grove Elementary School, Pacific Grove Middle School, and Pacific Grove High School.  There is one charter school, Monterey Bay Charter School and one private school, Stevenson High School as well.  To get local school scores and more information about these schools, check out the Pacific Grove School Report.
Now You Really Want to Find a Home Here, Right?
If you are interested in the current homes for sale in Pacific Grove, CA, click on the link. Our 'for sale' property information is a direct feed from the Pacific Grove MLS and is updated multiple times per day.