No current listings, please check back later.
Pacific Grove's Candy Cane Lane Real Estate
Search all Pacific Grove Candy Cane Lane neighborhood real estate listings of homes for sale plus foreclosures, short sales, and Candy Cane Lane information on one easy site.
Candy Cane Lane Real Estate
Candy Cane Lane real estate is highly desirable and there is rarely a home available in this neighborhood to purchase. If the search above doesn't yield any homes, then there is currently nothing available to purchase in this neighborhood.
Candy Cane Lane is an eclectic mix larger homes built primarily from the 1930's to the 1960's. There is a wide mix of architectural styles for real estate in Candy Cane Lane, not unlike Pacific Grove overall. The real estate styles you will find in Candy Cane Lane are 1960's ranches, 1950 mid-century moderns, Victorians of various styles, Craftsman Bungalows, Spanish and Mediterranean and others. There really are no two homes that are the same anymore although the ranch style homes can look similar. Most homes in this area have been remodeled over the years and some have been completely updated.
Candy Cane Lane is a very desirable part of Pacific Grove and prices are typically a bit higher than the surrounding comparable properties.
Pacific Grove Candy Cane Lane Area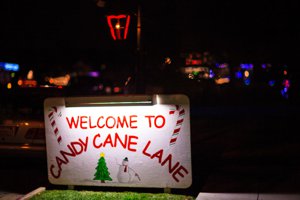 Included in this Central Pacific Grove area is a great little pocket of homes in a neighborhood referred to as Candy Cane Lane. Candy Cane Lane is a cluster of maybe 100 homes that get together each year and transform the neighborhood into a winter wonderland with each house being decorated to the hilt! People come from all over Monterey County to see Candy Cane Lane and have done so since well before I was a kid. In addition to the houses being decorated, the neighbors get together and decorate the streets and Platt Park, which is set up with decorations provided by the neighborhood. As you can imagine, every kid that grew up in Pacific Grove wanted to live on Candy Cane Lane and interestingly enough, several high school friends of mine do call this neighborhood home. It is particularly popular with families that have younger children.
I should also mention that is a very popular Halloween destination as many homeowners deck out their homes for Halloween too! Kids get bused in from other cities! My friends gave out over 3000 pieces of candy one year!
Pacific Grove's Candy Cane Lane Area is located near the middle of Pacific Grove by the High school and the middle school making it a sought after neighborhood for families with kids. This great little neighborhood is located above Hillcrest Avenue (Pacific Grove Middle School), below Morse Drive and between Forest Avenue and 14th Street that consists primarily of full-time residents of Pacific Grove.
The latest listings of homes for sale in Candy Cane Lane are on this page. For a full list of everything that is available in this sought after neighborhood, you can build an advanced search or contact us and we can do it for you.
Our website has detailed information including Pacific Grove Candy Cane Lane Real Estate Statistics. If you are interested in learning more about real estate values in this Pacific Grove, CA neighborhood, or if you are interested in seeing homes for sale in the Candy Cane Lane, Pacific Grove area, contact us.