Listing Details
Carmel Highlands Private Ocean View Home for Sale
$3,200,000
Bedrooms 4
Bathrooms 3.5
Home Size 3,626 square feet
Lot Size 3.5 acres
Contact Mark Bruno (831) 917-8190 with the Monterey Peninsula Home Team to see if this dream ocean view property in the Carmel Highlands is still available and to arrange a showing.
Carmel Highlands Private Ocean Retreat For Sale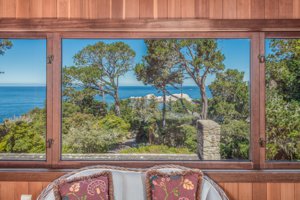 Leave the city bustle behind you as you drive down Highway 1 and up the gated driveway to your own private ocean view retreat in the Carmel Highlands. You will enjoy the laid-back and healing qualities of Big Sur in this uniquely special home with exquisite wood detailing and craftsmanship throughout. And while being tucked away in one of the most scenic spots in Monterey County, you're still just a few miles from downtown Carmel shops and restaurants and just steps to the world-class Highlands Inn and other nearby award-winning restaurants on the way to Big Sur.
With a master suite that includes a large Jacuzzi tub, sauna and breathtaking ocean views, this home's owner will have the ability to relax in a resort-like setting.
Another of the home's bathrooms includes a spacious fully tiled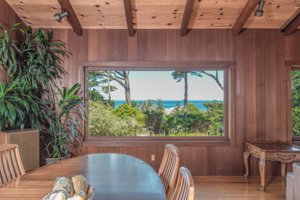 wall-to-ceiling shower. Besides the tub and sauna, the master bathroom includes a double sink. Located on the third floor, the master bedroom also offers a balcony deck.
Both the third and fourth bedrooms on the second floor also include balcony decks while the main floor's bedroom features a stone patio on alternating sides.
The kitchen includes high ceilings; recessed lighting and a stainless steel fridge flush with the wood craftsmanship. A large tiled island showcases a double-sink.
Included in this luxury Carmel Highlands property are a laundry room, skylights, stonework on both the patio and front-facing façade and hardwood floors. The living room showcases a built-in authentic stone fireplace with windows providing vast ocean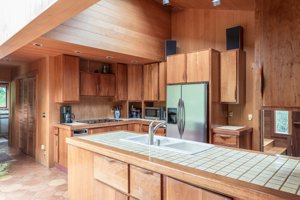 views.
This home and its setting is truly a little slice of heaven on Earth and must be seen to fully appreciate.
Just a short drive from Carmel-by-the-Sea and Carmel Valley, the Carmel Highlands offers a view of the Point Lobos, which is considered the most beautiful meeting of land and sea in the world. It's home to the famous Highlands Inn, which offers drinks and dining in a setting that overlooks the rugged coastline, unique only to the Central Coast.
Carmel Highlands is also home to one-of-a-kind hiking and scenic areas known as Point Lobos, Wildcat Cove, Yankee Point, and Otter Cove.
Because of its scenic beauty and peaceful location, residents are often less hurried and the lifestyle here is somewhat more laid back than in Carmel-by-the-Sea. The area attracts artists and writers and is an ideal location to leave all the stresses of city life behind while still being close to restaurants and other needed amenities.